what people are saying
"Learning healthy and effective communication skills at an early age is one of the best tools for creating success in life. This book is the perfect guide for teens. The authors' wise advice can be implemented immediately. I highly recommend Communication Skills for Teens, not only for adolescents, but for their parents and teachers as well."
— Alan C. Fox, author of the New York Times bestseller People Tools, People Tools for Business, and People Tools for Love and Relationships
"I can't think of a teen, or even an adult, who wouldn't benefit from reading this book. Teens will appreciate the enjoyable flow as well as the relevance of the information and voice. Page by page, easily absorbed concepts increase social intelligence while simply presented tips and strategies increase communication skills. Before I knew it, I was completely through the book and communicating more effectively myself, with more awareness and depth of presence. Yes!"
— Lucie Hemmen, PhD, licensed clinical psychologist, author of Parenting a Teen Girl and The Teen Girl's Survival Guide, and mother of two teen girls
"Communication Skills for Teens is brimming with tools for success. Do you know how to express your needs without stepping on toes or cheating yourself? How to handle hidden agendas? How to get past your jitters and break the ice with new people? This book answers these questions and so many more. It is more than a practical book for teens; it's a great communication book for anyone. It will be required reading for my young daughter — as soon as I'm done with it!"
— Shawn T. Smith, PsyD, author of The User's Guide to the Human Mind
"Communication Skills for Teens provides practical skills that you can use right away to listen and speak more clearly, more effectively, and with less chance of unnecessary hurt feelings and misunderstandings. The real-life teen examples will illustrate how you can use these skills in your everyday life to develop stronger and happier relationships with your friends, peers, parents, and adults."
— Dzung X. Vo, MD, author of The Mindful Teen
"Michelle and Kelly have made the guide for interpersonal effectiveness. As a therapist, I will be recommending this book to teens, parents, and adults. Their tone is genuine, the stories are real, and the tools are invaluable. In today's digital world, communicating can be difficult. This book gives you the tools to feel secure in any interaction you face—online or in person."
— Emily Roberts, MA, LPC, psychotherapist and author of Express Yourself
"This is the missing manual so many of us wish we'd had in our confusing, turbulent teenage years. Even as an adult, I walked away with more effective communication skills for myself as well as my teen clients."
— Christopher Willard, PsyD, author of Child's Mind and Mindfulness for Teen Anxiety, Cambridge Health Alliance/Harvard Medical School
"In a world that has evolved into a culture of disengagement, it's refreshing to see such a thoughtful tool that both teaches and encourages teens to authentically connect with one another. The Communication Skills for Teens workbook offers excellent, relatable activities to help teens learn the art and skill of sound communication."
— Julia V. Taylor, MA, author of The Body Image Workbook for Teens, Salvaging Sisterhood, and Perfectly You, and coauthor of G.I.R.L.S. (Girls in Real Life Situations) and The Bullying Workbook for Teens
"Communication Skills for Teens is an excellent book for helping teens learn how to cooperate with others and build friendship and love. Practitioners will find the book to be a useful adjunct to therapy, especially when helping teens who have social phobia or other socially based problems."
— Joseph Ciarrochi, professor at the Institute for Positive Psychology and Education at Australian Catholic University, and coauthor of The Thriving Adolescent and the best-selling Get Out of Your Mind and Into Your Life for Teens
"Communication Skills for Teens is an invaluable and solid resource for helping teens navigate through life by teaching them the fundamentals of effective communication. Many of today's teens heavily rely on social networking and social media outlets as a means to connect and express themselves. These electronic devices will never replace the value of face-to-face interactions. Communication Skills for Teens provides a wealth of information to help teens master the art of in-person communication. This is a book that every teen would benefit from reading!"
— Raychelle Cassada Lohmann, MS, LPC, counselor, author of The Anger Workbook for Teens, and coauthor of The Bullying Workbook for Teens and The Sexual Trauma Workbook for Teen Girls
"A great resource for parents and professionals wanting to understand and help teens to communicate. The addition of a teen as a coauthor provides a unique and down-to-earth reflection on key communication styles. [Communication Skills for Teens] goes beyond active listening to provide a comprehensive range of communication patterns and situations. [The book] explains step by step the different ways we communicate our feelings, needs, and beliefs, and then provides exercises to help young people practice the skills."
— Louise Hayes, PhD, clinical psychologist, academic, and coauthor of The Thriving Adolescent and Get Out of Your Mind and Into Your Life for Teens
More about the book

---

CONTENTS
Acknowledgments
Introduction
Chapter 1: How to Really Listen
Chapter 2: Letting Others Know You
Chapter 3: Expressing What You Feel and Need
Chapter 4: Recognizing Hidden Agendas
Chapter 5: Understanding Your Beliefs and the Beliefs of Others
Chapter 6: Assertive Communication
Chapter 7: Making New Connections
Chapter 8: Sexual Communication
Chapter 9: Family Communication
Chapter 10: Communication for Academic and Career Success
Conclusion
---
Acknowledgments
This book would not have been possible without Matt McKay and Patrick Fanning. These two remarkable men co-founded New Harbinger over forty years ago. They have written dozens of books over the years, but never a teen book. Their book Messages was the inspiration for this one, so I wanted them on board for the project. To that end, I decided on a classic wine-and-dine strategy. I had them over for dinner to pitch the book idea. Unfortunately, my culinary skills were seriously impaired, so that aspect of the evening was a fail, but we did have fun decorating gingerbread houses. And, they said yes to coauthoring their first teen book. Thank you Matt and Pat!
I also want to thank the entire New Harbinger family for supporting this project. There are so many individuals who nurtured this book from the beginning to the end and they were all a joy to work with.
And, a very special shout-out to Jasmine Star, our editor extraordinaire. Her edits, queries, and suggestions made Communication Skills for Teens a better book. Thank you!
Last but not least, to all teens—you are an inspiring population bursting with fresh ideas, energy, and enthusiasm; it is important that your voices be heard and that your contributions be felt. This book is for you!

---
INTRODUCTION
Communication is an essential life skill. Effective and healthy communication plays a huge role in success and happiness in life. We communicate in all sorts of ways — body language, facial expression, tone of voice, physical action, and even thoughts — whether we're aware of it or not. Everything we do sends a message about who we are. And others are often making decisions and judgments about us based upon how they perceive us. Therefore, it's vital to bring awareness to the messages that you're communicating about yourself.
Your generation is unique, having grown up with technology and social media unlike anything available to previous generations. This has changed the way people communicate, particularly teens. For many people, face-to-face communication has become secondary to Facebook, Twitter, Instagram, Snapchat, and texting. But as people become more connected to smartphones and the Internet, their ability to connect in person can be compromised, and it may be more difficult to develop effective communication skills. Technology is remarkable, but it doesn't replace the need for effective communication skills. In fact, successful business and personal relationships depend on connecting with people.
This book provides communication skills and guidance that will enable you to thrive in your life and in your relationships. The skills include active listening, self-disclosure, expressing your needs, recognizing your hidden agendas, clarification, assertive communication, making new connections, sexual communication, family communication, and interviewing skills.
Detailed explanations and exercises will help you determine which skills you need to develop or polish in order to increase your ability to communicate clearly and effectively in all aspects of your life. To maximize the benefits, we recommend that you complete the exercises presented in the book. You'll need a journal or notebook for this purpose — or you can use a document on your computer. Choose whatever format you're most comfortable with.
This book is written so that you can work through the chapters in any order you wish. For example, you might decide to start with chapter 8 if you're facing a situation that requires you to communicate about sex. However, we strongly encourage you to read chapter 1 first, since it introduces skills that are referred to in other chapters. Of course, you can also read the chapters in order, from beginning to end. In addition, you may find that you're already more skilled in some areas than others. However, even if you think you're a great listener, we urge you to go ahead and read chapter 1, How to Really Listen, because we've found that it's easy to fall into some of the traps associated with listening.
Before we begin, we'd like to share some information about who wrote this book. Matt McKay and Patrick Fanning wrote a communication skills book for adults, Messages, that continues to be a great resource. In fact, Michelle Skeen found it extremely helpful when writing two of her previous books. This inspired her to write a similar book for teens — something she especially cares about because she has a teenage daughter, Kelly (along with two older sons). But Michelle and Kelly agreed that teens don't need more adults in their lives giving them advice and sometimes talking down to them or providing examples that are relevant to adults but don't resonate with younger people. So Kelly became a coauthor, adding a teen's voice and perspective. Kelly provided all of the examples and used her own experiences to gear the book more toward teens.
So, now that you have a sense of what this book is about and who we are, let's get started!
---
Worksheets
(click for printable pages)
---
ABOUT THE COAUTHORS
Michelle Skeen, PsyD, is a therapist who lives and works in San Francisco, CA. She has provided brief and long-term therapy for individuals and couples by utilizing schema and mindfulness-based approaches to address interpersonal issues, weight management, anger, depression, anxiety, disabilities, and trauma. She is author of Love Me Don't, Leave Me and coauthor of Acceptance and Commitment Therapy for Interpersonal Problems. Skeen hosts a weekly radio show called Relationships 2.0 with Dr. Michelle Skeen.
Matthew McKay, PhD, is a professor at the Wright Institute in Berkeley, CA. He has authored and coauthored numerous books, including The Relaxation and Stress Reduction Workbook, Self-Esteem, Thoughts and Feelings, When Anger Hurts, and ACT on Life Not on Anger. He's also penned two novels: Us and The Wawona Hotel. McKay received his PhD in clinical psychology from the California School of Professional Psychology, and specializes in the cognitive behavioral treatment of anxiety and depression. He lives and works in the San Francisco Bay Area.
Patrick Fanning is a professional writer in the mental health field, and founder of a men's support group in Northern California. He has authored and coauthored eight self-help books, including Self-Esteem, Thoughts and Feelings, Couple Skills, and Mind and Emotions.
Kelly Skeen is a student at Georgetown University in Washington, DC.
---
WHERE TO BUY
Communication Skills for Teens: How to Listen, Express, and Connect for Success is available from the following online retailers: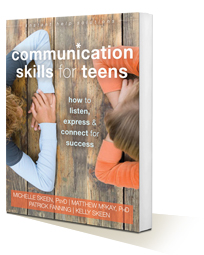 Amazon