Back to Uncategorized
Flying out of my comfort zone
When I was 11, I sat up at the top of a zipline for forty-five minutes, refusing to slide down. I shook, I cried, and eventually I had to be pushed off the platform. It was very scary, and I never did it again.
I've always been afraid of heights, and sometimes I'm also afraid of trying new things (that I worry I won't be good at!).
Recently, I went to a flying trapeze lesson with my good friend Jackson to celebrate his birthday. I chose this particular activity for Jackson's birthday because I knew he would love it (he is a dancer and he loves adventure) and I hoped that I would love it too—11-year-old me would be proud!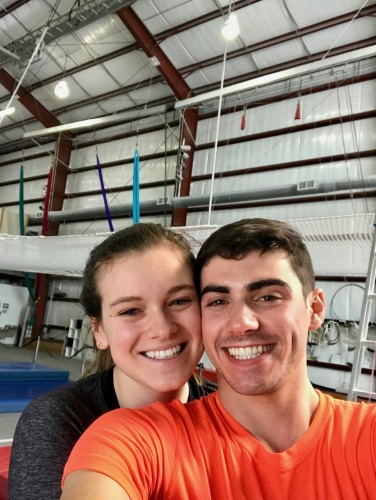 Jackson went first and wowed the trainers and other participants. "You're sure it's his first time?" they asked. I laughed.
It was my turn—I began climbing the ladder and started to feel more and more nervous. "Maybe I should just watch Jackson instead," I fantasized. Once I reached the platform, I told the trainer how I was feeling. Tears welled up in my eyes. She instructed me to take a few deep breaths.
I closed my eyes and imagined how I would feel once I landed in that net—accomplished and confident. I slipped off the platform (not very gracefully) and flew through the air. I was surprised that it was actually fun!
By the end of the lesson, Jackson and I were having such a great time that we decided to continue learning trapeze art. On our second lesson, I performed a "catch"—I was swinging while hanging from my knees, one of the trainers grabbed my arms, and I let go of the bar! It was exhilarating.
So what? Jackson's birthday celebration ended up being a great opportunity for me to get out of my comfort zone and experience something new. And I really enjoyed it…I'm already looking forward to the next time we go!